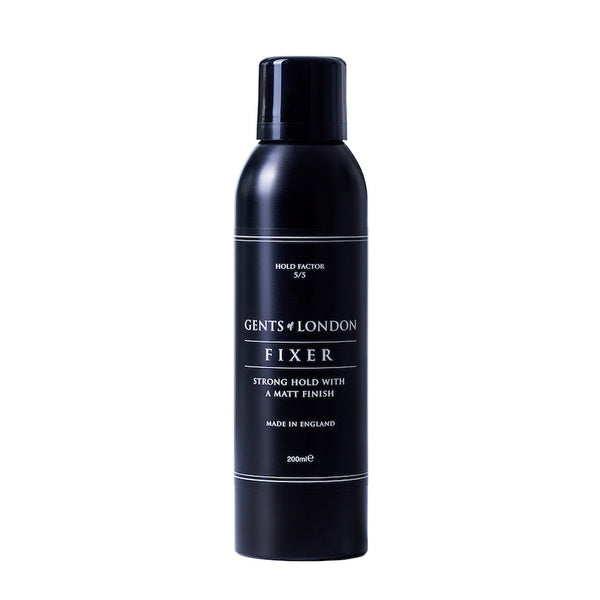 MAXIMUM HOLD HAIRSPRAY: Take your grooming game to new heights with Gents of London Fixer hairspray for men, created in a traditional London barbershop. Combining old-school style with upfront modern formulations each hairstyling product has a unique feature, functionality and masculine fragrance. 
TEXTURE ENHANCING: The perfect men's hairstyling solution for guaranteeing an unbeatable all-day hold to your hairstyle. High-quality masculine matte black aluminium bottle with a black gloss spray nozzle. Use as a daily 'stand-alone styling product' or with any other Gents of London hairstyling product to achieve different hairstyling results. A true men's 'hairstyling essential' to have in your product armoury.

LUXURIOUS LIME & GINGER FRAGRANCE: Ideal for most hair types, perfect for medium to long hairstyles. Fixer men's hairspray enhances texture and provides long-lasting hold. For best results, spray evenly all over your hair from a distance of 30cm or apply to individual stands for extra hold.

ETHICALLY MADE: Made by one of the UK's best-loved independent male grooming brands, Our men's hair spray is proudly made in England, cruelty-free and vegan-friendly. No single-use plastic jars or bottles are used in our range (only applicators where necessary). 
CREATED IN LONDON: Hairspray for men is made using premium ingredients and a classic design. Gents of London believe in quality, care, and making unique hair styling sprays for everyone to enjoy. Authentic grooming products inspired by a traditional London barbershop, we hope they will inspire you too.

ETHICS & IMPACT
Every human and business make an impact on the environment. At Gents of London, we are continuously striving to improve our social responsibilities and reduce our environmental impact by modifying our processes and packaging.